Reflecting on the Winter that Never Was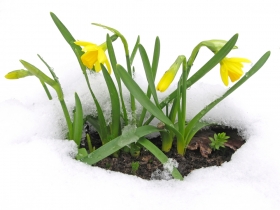 In a couple weeks, the northern hemisphere will be entering the spring season, and now is a good time to reflect on this winter. For some, it feels like spring has already been here, and soon summer will be approaching. That is because for many Americans, it was the winter that never was. According to the National Oceanic and Atmospheric Administration (NOAA), it was not the warmest winter in recent history, but it does rank pretty high. Furthermore, this winter will be marked for its amazing lack of snowfall, especially when compared with last year. The following are some highlights from around the nation.
From December to February, the dominant weather conditions for the northern and eastern states was above average temperatures and below average precipitation. The average temperature in the US was 36.8 degrees, nearly 4 degrees higher than the 1901-2000 long term average, and the warmest since 2000. Average precipitation across the US was 5.7 inches, nearly 1 inch below the long term average.
Only one state had an average winter temperature below the long term average, New Mexico. For 27 states, this winter ranked within the 10 warmest of all time.
NOAA also maintains an index known as the US Climate Extremes Index which tracks the highest and lowest 10 percent in temperature, precipitation, and other factors. The 2011-2012 winter had the 9th highest value in its 102 year period. This ranking was driven mostly by warm temperatures in the Northeast, Upper Midwest, and Ohio Valley.
The western states were spared the higher temperatures but suffered through very dry conditions. California had its second driest winter on record. Montana, Oregon, and Idaho were in the top 10 highest on record. Dry conditions also persisted throughout the Northern Plains, Southeast, and Northeast. Only the central states, southern plains, and Ohio Valley had above average precipitation.
The factor that really stood out was the lack of snowfall. Rutgers Global Snow Lab maintains records of snow cover extent across the US. According to their data, snow cover was about 237,000 sq miles below the average from the last 30 years. It was the 3rd smallest snow footprint on record.
Many people will be thankful for being spared this winter from having to shovel their driveways and drive in slippery conditions. Kids will be sad that they did not get any snow days. Ski resorts and snow plow companies will curse the miserable weather for causing a down year.
The big question will be what does this warm winter portend for the coming summer. Will it be hotter...wetter...buggier? The only thing we can safely predict is unpredictability. After all, our biggest snow storm was in October.
For more information from NOAA: http://www.ncdc.noaa.gov/climate-monitoring/
Rutgers Global Snow Lab: http://climate.rutgers.edu/snowcover/index.php
Daffodil image via Shutterstock