Study: Climate Change will Exacerbate Respiratory Diseases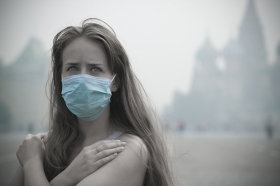 A new study highlights the growing danger of respiratory disease as the Earth gets warmer. Higher temperatures, in and of itself, do not make a person more likely to come down with something like asthma, allergies, infections and the like. The danger will come from the increase in ground level ozone in urban areas, higher particulate matter in drought-stricken areas, and the ranges of communicable diseases expanding into the higher latitudes. Incidences of respiratory diseases may likely balloon during climate-change related events such as heat waves, bad air pollution days, and other extreme weather. It is during these moments that vulnerable populations will need the most support.
The paper was published in the Proceedings of the American Thoracic Society, a professional organization composed of pulmonologists, thoracic surgeons, and respiratory therapists. The goal of the study is to help members of this organization know how to respond with their patients and communities.
"In these proceedings, we address such questions as how climate change may impact the distribution of respiratory disease worldwide, the impact of heat stress and adaptation, and how extreme heat affects the individual and the community," said Kent Pinkerton, professor of pediatrics at the UC Davis School of Medicine and director of the UC Davis Center for Health and the Environment. He was also a co-author of the paper.
"Since my research focuses on environmental air pollution and its impact on the respiratory system, my biggest concern has been with issues of air quality. These include more smoke and particulate matter from more wildfires, which are known to increase in frequency as the climate warms, and the presence of airborne particles from dust storms caused by desertification."
The paper also emphasized how strains of mold, bacteria, and vector-borne diseases will migrate to higher latitudes. It indicates that mold spores once only seen in Central America have been found in British Columbia, and infectious diseases common in the Mediterranean can now be found in Scandinavia.
The biggest concern is the outbreak of infectious respiratory diseases during or in the aftermath of an extreme weather event. For example, diseases can spread like wildfire among throngs of people displaced from their homes by hurricanes or floods.
"Our greatest concern is infants, children, the elderly and other sensitive populations," he said. "They will be the first to experience serious climate change-related health problems."
For more information: http://pats.atsjournals.org/
Woman with dust mask image via Shutterstock