Fighting Mosquitoes, the Green Way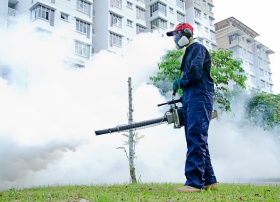 The last way you want to spend your hard-earned vacation is swatting away mosquitoes and then scratching away at the bites. So it hardly seems tragic when the resort starts spraying the bloodsuckers.
However, the way that most resorts combat mosquitoes has some alarming implications for the environment. In the case of coastal areas, many mosquito pesticides can kill fish even when diluted down to one part per million. The spray washes out into oceans and coral alcoves. These chemicals are neurotoxins that can harm people, and spraying them into the air (called "fogging") has an immediate effect on air quality.
"When they fog they have a special machine that generates a fine mist, like a smoke with diesel fuel and pesticides combined. You feel like you can't breathe, it's a really awful experience," says Trudy Collins, an environmentally friendly mosquito control consultant.
Seem like a dilemma? That's exactly where Trudy Collins comes in. This UC Berkeley-educated global citizen has made it her mission to help resorts and the communities around and solve mosquito problems safely, effectively, and inexpensively.
"It's amazing how they can be doing this incredibly expensive fog program, and they will still be getting many, many mosquitoes and complaints from guests," she says.
Collins goes into resorts that are using fogging and re-trains the staff in environmentally friendly mosquito control methods. She takes them out hunting for mosquito breeding areas, and teaches them how to prevent mosquitoes at the source. Killing the adult mosquitoes is not nearly as effective as destroying their breeding grounds, especially since mosquitoes become resistant to the pesticides over time.
Article continues: http://www.sierraclubgreenhome.com/go-green/holiday/fighting-mosquitoes-the-green-way/
Fogging image via Shutterstock