Streetkleen Taps Man's Best Friend for Renewable Biogas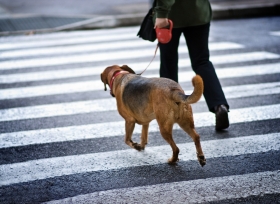 The idea of converting dog waste to renewable biogas started off as a modest art project in Cambridge, Massachusetts, two years ago, and it has struck a spark across the pond. A new company in Wales called Streetkleen has constructed a dog waste-to-biogas conversion station in the county of Flintshire and plans are already in the works to expand into a network throughout the U.K.
Flintshire is a small county known as the Gateway to Wales. It might not be the first location that comes to mind as ground zero in the fight against urban dog pollution, but Flintshireans have been up in arms over the problem, particularly in the Village of Broughton (pop. about 5,000 when lumped in with a neighboring village), where Streetkleen was founded. Multiply that by a few digits and you have the dog waste problem on an American scale — which could translate into some new opportunities for enterprising dog waste firms.
Dog waste to biogas, art to life
It has been said that art imitates life, but in the case of dog waste biogas it seems that life is imitating art. The Streetkleen model appears to be partly based on a modest art project that consists of a small methane digester located in the dog run at Pacific Street Park in Cambridge, Massachusetts.
Installed in the fall of 2010, the "Park Spark" project enlisted dog owners to use biodegradable bags to scoop the waste, drop it into a closed container, and give it a stir with a few twists of a large handle.
Article continues at ENN affiliate, Triple Pundit
Dog Walking image via Shutterstock