Bat, Bee, Frog Deaths May Be Linked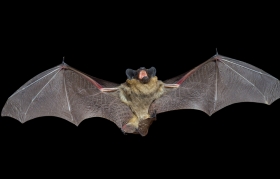 In recent years, diseases have ravaged through bat, honeybee and amphibian populations, and now animal experts suspect that shared factors may link the deaths, which are putting many species at risk for extinction.
The latest setback affects bats, given this week's announcement that the deadly fungal disease known as white-nose syndrome has been confirmed in already endangered gray bats. The illness, caused by the fungus Geomyces destructans, has mortality rates reaching up to 100 percent at some sites.
Simultaneously, Colony Collapse Disorder continues to kill honeybees, while yet another fungus, Batrachochytrium dendrobatidis, has wiped out more than 200 frog species across the world.
"It appears that many species are under an immense amount of stress, allowing opportunistic diseases to take hold," Rob Mies, executive director of the Organization for Bat Conservation, told Discovery News. "Life is far more complex, so a single cause is likely not the only explanation for the bat, bee and frog deaths. There could be five, six or more factors involved."
One is how humans may be helping fungal spread. According to the U.S. Fish & Wildlife Service, white-nose syndrome can be inadvertently transferred from people to bats.
"Some of the first caves in North America to be affected by white nose syndrome were in very high tourism areas," Mies said. "Somebody could have visited a cave in Europe wearing boots, and then brought back a tiny bit of mud on the boots containing dormant fungus."
Article continues at Discovery News
Bat image via Shutterstock