Bonobos Join Chimps as Closest Human Relatives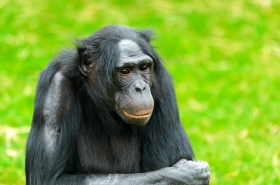 Chimpanzees now have to share the distinction of being our closest living relative in the animal kingdom. An international team of researchers has sequenced the genome of the bonobo for the first time, confirming that it shares the same percentage of its DNA with us as chimps do. The team also found some small but tantalizing differences in the genomes of the three species—differences that may explain how bonobos and chimpanzees don't look or act like us even though we share about 99% of our DNA.
"We're so closely related genetically, yet our behavior is so different," says team member and computational biologist Janet Kelso of the Max Planck Institute for Evolutionary Anthropology in Leipzig, Germany. "This will allow us to look for the genetic basis of what makes modern humans different from both bonobos and chimpanzees."
Ever since researchers sequenced the chimp genome in 2005, they have known that humans share about 99% of our DNA with chimpanzees, making them our closest living relatives. But there are actually two species of apes that are this closely related to humans: bonobos (Pan paniscus) and the common chimpanzee (Pan troglodytes). This has prompted researchers to speculate whether the ancestor of humans, chimpanzees, and bonobos looked and acted more like a bonobo, a chimpanzee, or something else—and how all three species have evolved differently since the ancestor of humans split with the common ancestor of bonobos and chimps between 4 million and 7 million years ago in Africa.
The international sequencing effort led from Max Planck chose a bonobo named Ulindi from the Leipzig Zoo as its subject, partly because she was a female (the chimp genome was of a male). The analysis of Ulindi's complete genome, reported online today in Nature, reveals that bonobos and chimpanzees share 99.6% of their DNA. This confirms that these two species of African apes are still highly similar to each other genetically, even though their populations split apart in Africa about 1 million years ago, perhaps after the Congo River formed and divided an ancestral population into two groups. Today, bonobos are found in only the Democratic Republic of Congo and there is no evidence that they have interbred with chimpanzees in equatorial Africa since they diverged, perhaps because the Congo River acted as a barrier to prevent the groups from mixing. The researchers also found that bonobos share about 98.7% of their DNA with humans—about the same amount that chimps share with us.
Article continues at Science AAAS
Bonobo image via Shutterstock