'No doubt' that climate change is playing a role in U.S. fires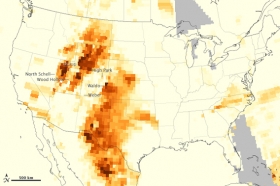 A noted climate scientist says there is "no doubt" that climate change is "playing a role" in this year's series of record fires in the western U.S. A massive wildfire in Colorado has forced the evacuation of 36,000 people, destroyed over 300 homes, and killed two people. The devastation wrought by the Waldo Canyon Fire even prompted a visit form U.S. President Barack Obama. But this is not the only epic fire in the U.S. this year: less than a month before the Colorado disaster, New Mexico experienced its largest fire on record in Gila Nation Forest; the conflagration burned up 247,000 acres (100,000 hectares). Other major wildfires have occurred in Utah and Wyoming, as well as other parts of New Mexico and Colorado.
"I have no doubt climate change is playing a role in this," climate scientist Kevin Trenberth, who heads the Climate Analysis Section at the National Center for Atmospheric Research (NCAR), told The Salt Lake Tribune, noting that "there are wildfires all over the place." Located in Boulder Colorado, Trenberth's NCAR lab was recently evacuated due to the Waldo Canyon Fire.
Trenberth may be be a bit more outspoken about the link between on-going fires and climate change than some of this colleagues, but his views are widespread among other climate experts as well.
For further information see Fire.
Map image via NASA.