Recently Discovered 80-Year Old Photos Shed New Light on Greenland Ice Loss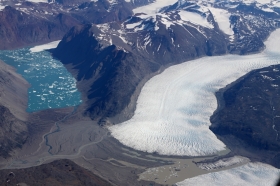 A chance discovery of historic photos in a Danish basement has given new insight to researchers studying the ice on Greenland. The photos were found at the National Survey and Cadastre of Denmark, Denmark's surveying and mapping agency. They originate from the explorer, Knud Rasmussen's expedition to the southeast coast of Greenland in the early 1930s. The images stored in glass plates were compared to aerial photos and satellite images taken from World War II to the present.
The research was conducted by Ohio State University along with their Danish colleagues. According to Ohio State associate professor Jason Box, the historic images show that the glaciers were actually melting faster in the 1930s than today. There was then a brief cooling period in the mid-20th century followed by accelerated melting in the 2000s.
"Because of this study, we now have a detailed historical analogue for more recent glacier loss," Box said. "And we've confirmed that glaciers are very sensitive indicators of climate."
The discovery of the historic photos was extremely fortunate, given the rarity of Greenland images prior to the satellite era. The lead author of the study, Anders Anker Bjork, of the Natural History Museum of Denmark was trying to compile all such imagery. The National Survey and Cadastre of Denmark contacted Bjork with their findings from the basement they were cleaning out.
They were glass plates with glaciers on them, forgotten about and stowed away for years. These plates were documentation of Rasmussen's 7th Thule Expedition to Greenland, containing images of land, sea, and glaciers in the southeast region of the country.
The images were digitized by the researchers and then analyzed the coastline, where the ice meets the Atlantic Ocean, calculating the distance the ice front moved.
They found two events which stand out. Glaciers retreated from 1933-1934, and again from 2000-2010. In between, from 1943-1972, southeast Greenalnd cooled, likely due to sulfur pollution. Sulfur dioxide is a toxic gas produced by volcanoes and industrial processes. It is the main ingredient in acid rain. Its presence peaked just prior to the passing of the Clean Air Act in 1963.
A byproduct of sulfur pollution is that it reflects sunlight away from the Earth. Once the sulfur levels in the atmosphere began to reduce, the warming trend continued. However, during that brief cooling period, the Greenland glaciers responded rapidly. Sixty percent of the glaciers observed expanded during this period.
This study has been published in the journal Nature Geoscience.
Greenland Glacier image via Shutterstock