Rising sea levels threaten islanders with displacement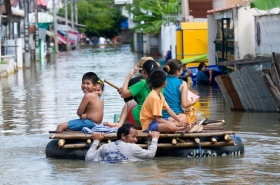 A significant rise in sea levels due to global warming could result in the loss of species and habitats in the coastal areas of more than a thousand islands in South-East Asia and the Pacific region, leading to the potential displacement of many millions of people, according to a study.
"Sea level rise will lead to the permanent inundation and erosion of coastal areas," said Florian Wetzel, first author of the study which appeared in the journal Global Change Biology, and an ecologist from the Konrad Lorenz Institute of Ethology of the University of Veterinary Medicine in Vienna, Austria.
Some of the areas at risk — such as Indonesia, Malaysia, the Philippines, East Timor, Papua New Guinea and Thailand — are known biodiversity hotspots. Others, like Fiji, Samoa and Vanuatu, possess endemic species.
The study, 'Future climate change driven sea-level rise: secondary consequences from human displacement for island biodiversity', points out that some species, particularly those mammals that range widely within low-lying coastal zones or in hinterland regions, could be wiped out entirely.
Many of these species, including endemic tigers, panthers, squirrels, rats, cats and monkeys, are already endangered.
People are also likely to have to migrate from coastal areas to island interiors due to permanent flooding in littoral settlements, added Wetzel.
Article continues at ENN affiliate, Science and Development Network
Floods image via Shutterstock