How Global Warming Is Impacting Stock Prices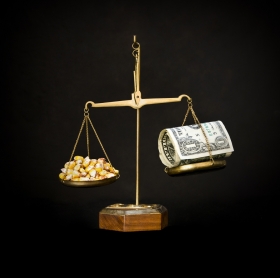 Heat waves and droughts magnified by global warming are exacting an economic tax on America's middle class through higher prices and increased health care costs. Now this global warming tax is hitting the stock valuations of American companies.
Global warming's economic tax hits restaurant stocks
The most visible evidence of how global warming could impact a company's stock price occurred on July 20 with sharp declines in restaurant stock prices. Led by Chipotle's stunning 20+% stock drop all the major restaurant stocks including McDonalds took a hit as stock analysts incorporated global warming's heat and drought impacts upon restaurant food costs, profit margins and sales if higher menu prices trigger a consumer search for lower cost options.
Other stocks exposed to global warming's economic tax
It is only a question of time before global warming's economic impacts fall on other companies. Farmers earning less on reduced crop yields will not be in a position to buy new farm equipment from companies like John Deere. A lower food supply means less food to process, impacting companies like Archer Daniels Midlands. Gasoline prices will rise since 10 percent of today's gasoline is composed of ethanol principally derived from corn. We have already seen national gasoline prices go up by over 10 cents during the last three weeks due to Middle East supply risks combined with higher costs for ethanol. Gasoline price increases that curtail driving will hurt retail sales at large gasoline retailers like 76 Stations and others. Retail stores that depend on consumers driving to their location to shop will probably see reduced customer traffic.
Cities hit by global warming's economic tax
Cities that are already facing economic stress will be hit by global warming's economic tax through higher electricity bills and the increased cost of caring for the elderly and weak who do not have the financial resources or human strength to handle an intense heat wave. The emerging economic choice confronting mayors across America from global warming's economic tax is to further cut municipal services or try to implement higher taxes.
Article continues at ENN affiliate, Triple Pundit
Food Prices image via Shutterstock