America's 'Most Polluted' Lake Finally Comes Clean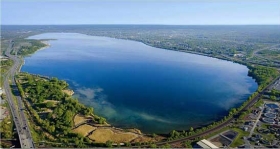 Onondaga Lake in Syracuse, N.Y., has often been called the most polluted lake in America. It was hammered by a one-two punch: raw and partially treated sewage from the city and its suburbs, and a century's worth of industrial dumping. But now the final stage in a $1 billion cleanup is about to begin.
Standing in his office amid stacks of reports, scientist Steve Effler glances at an old front-page headline of the Syracuse Herald-Journal: "Divers find goo in Onondaga Lake."
Goo was just part of the lake's problem. Effler, who created the Upstate Freshwater Institute, knows more about the 4.5-square-mile lake than anyone. But back in the 1950s, before he began studying the lake, he was a kid riding by in the backseat of his parents' car.
"The lake [smelled] so bad [from the pollution] that you had to roll the windows up," he recalls.
By then, swimming had already been banned for more than a decade. Because of mercury contamination, fishing was banned in 1972, although there were not many fish in the lake. Effler says there was so little oxygen that fish often swam right out of the lake.
Article continues at NPR Topics: Environment
Image credit: http://www.onondagalake.org/