Ford's Investment in EVs and Hybrids Continues to Surge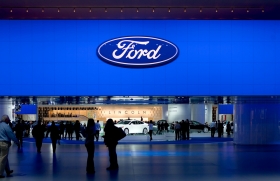 Yesterday Ford Motor Co. announced that the company would accelerate investment in electric vehicles (EVs) and hybrids. The moves come as Ford and its competitors within the American automobile industry experience a resurgence following their near-death experience just a few years ago.
Ford's investment in cars other than those powered by conventional internal combustion engines (ICE) shows that the Big 3, albeit too slowly for some EV advocates, are continuing their shift towards the next generation of automobiles. At Ford, the ramped up spending on EVs and hybrids is a combination of new hires, research and development and space.
The following are a few ways in which Ford says it is preparing for the next generation of cars:
More engineers: Considering Detroit's on-again and very off-again interest in EVs, the size of Ford's engineering team focused on electrification may surprise you. I assumed Ford had, well, five or six engineers devoted to EV research. But Ford employs over 1,000 engineers on electrification technology, with 60 hired last year and dozens expected to onboard before January 1. Many of the engineers the company recruited to work on vehicles such as the Focus Electric were previously at aerospace companies, and worked on jets, satellites, rockets and unmanned spacecraft.
Advanced battery systems: Ford is investing $135 million in the design, engineering and production of key battery components for next-generation hybrid and electric vehicles going into production this year.
Article continues at ENN affiliate, Triple Pundit
Ford image via Shutterstock