Climate change 'may boost South-East Asian agriculture'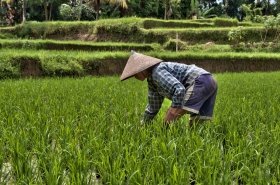 Increased rainfall and temperature due to climate change could bring benefits to South-East Asian agriculture, a study suggests, contradicting more common expectations that a warmer planet will reduce agricultural productivity in the region.
Scientists from the International Water Management Institute (IWMI) have predicted that precipitation levels in vast areas of South-East Asia will remain stable, and most of the anticipated changes will occur over the sea, rather than over land.
In southern Vietnam and Cambodia, for instance, precipitation changes will be so minimal that farm production will barely be affected. In central and northern Myanmar, the increase will in fact help to raise crop output, as these are the driest areas in the region.
An increase in temperature may also increase crop yield in northern parts of Thailand, Laos and Myanmar, since crops such as rice and vegetables rely on regular rainfall and are most vulnerable to variability in weather.
"At the regional scale, precipitation and temperature changes should benefit agricultural production, as significant precipitation increases will occur in the drier areas, whereas the steepest temperature rises will affect the coldest parts," says the study.
The study was carried out by IWMI scientists Guillaume Lacombe, Chu Thai Hoanh and Vladimir Smakhtin.
Article continues at ENN affiliate, Science and Development Network
Farmer image via Shutterstock