Healthy Vitamin D Levels Can Decrease Mortality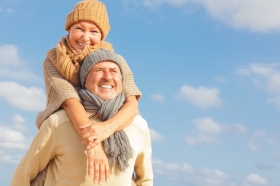 Vitamin D is a vitamin that is commonly lacking for many people when they get their blood tested. The vitamin is essential in our diet, but it also can be synthesized from exposure to the sun, much like plants can photosynthesize chlorophyll. A new study looked at the mortality of humans who suffer from vitamin D deficiency. Low levels of the vitamin and high levels of parathyroid hormone have been found to increase mortality for African American and Caucasian older adults. However, there is a greater impact in African Americans due to a higher prevalence of insufficient vitamin D levels.
Previous studies have found that low vitamin D levels are directly associated with various forms of cancer and cardiovascular disease. However, most studies have focused on white test subjects only and have largely excluded blacks. The new study takes a closer look at how it affects both peoples.
"We observed vitamin D insufficiency (defined as blood levels <20 ng/ml), in one third of our study participants. This was associated with nearly a 50 percent increase in the mortality rate in older adults," said Stephen B. Kritchevsky, PhD, Professor of Internal Medicine and Transitional Science at the Wake Forest School of Medicine, and lead researcher of this study. "Our findings suggest that low levels of vitamin D may be a substantial public health concern for our nation's older adults."
The study examined 2,638 people of both European and African origin, ages 70-79. The participants were asked to fast for 12 hours, and then a blood sample was collected to determine vitamin D levels. Every six months following the blood tests, the participants were asked to update their medical condition.
From this data, the researchers could determine the proportion of deaths for people with different vitamin D levels. Other factors were also accounted for, including the time of year which would influence exposure to the sun. The conclusion was that a vitamin D level of 30 ng/ml was associated with significantly increased all-cause mortality.
"We all know that good nutrition is important to overall health and our study adds to a growing body of literature that underscores the importance of vitamin D and indicates that poor vitamin D nutrition is wide-spread," said Kritchevsky. "The good news is it's easy to improve vitamin D status either through increased skin exposure to sunlight or through diet or supplements."
This study has been published in the Endocrine Society's Journal of Clinical Endocrinology and Metabolism (JCEM)
Elderly People in Sunlight image via Shutterstock