Ocean-grabbing threatens the food security of entire communities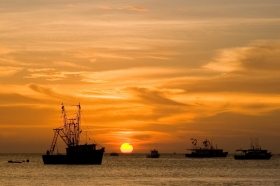 All over the world, food systems and the ecosystems they rely on are coming under pressure from the over-exploitation of natural resources. But nowhere are these impacts occurring as rapidly and dramatically as in the world's oceans.
Between 1970 and 1990, buoyed by generous fuel and boat-building subsidies, the harvesting capacity of the worlds combined fisheries grew eight times faster than the rate of growth in landings. This led to a situation where the capacity of the global aggregate fishing fleet is at least double what is needed to exploit the oceans sustainably.
A vicious cycle has ensued whereby fishing vessels have gone further and deeper in their hunt for fish, degrading marine environments and depleting stocks ever further. Fishing methods such as industrial bottom trawling - the equivalent of deforestation in deep waters – have proved particularly destructive and wasteful, while climate change, ocean acidification and pollution have further destabilised marine environments.
Faced with this crisis, it is tempting to put forward drastic solutions. Should we stop eating fish altogether? Should a sector that is hurtling down a path to its own extinction be brought to a complete halt?
Certainly at the global level urgent steps must be taken to clamp down on illegal, unregulated and unrecorded (IUU) fishing, and halt the depletion of endangered fish stocks.
But this can only be part of the solution, because it only addresses part of the global fish economy. In parallel to industrial trawlers and distance fleets, some 12 million small-scale fishers operate in coastal and inland marine areas across the world, deriving vital income and dietary protein from fisheries in a way that contributes crucially to the food security of whole communities.
Article continues at ENN affiliate, Ecologist
Fishing Vessels image via Shutterstock