Better Place EV Company May Turn Into EV Gas Station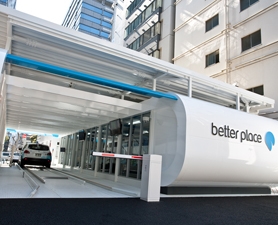 Israel's electric car company Better Place is going to experience an overhaul, and will manage its existing resources in a new way, according to Evan Thornley, the company's new CEO who just moved to Israel from Australia. Instead of focusing on selling Renault-made cars and charge plans to keep them juiced, the company is going to seek new agreements with other EV car manufacturers worldwide so that Better Place charge stations and battery replacement points will be the center of a new business model. Over the past month and a half, Better Place's global CEO Shai Agassi was ousted, and last week its Israeli CEO Moshe Kaplinsky decided to quit amidst speculation that the troubled company had become even more unstable.
A Better Place spokesperson wrote Green Prophet in response to Kaplinsky's leaving:
"Based on his speech to employees yesterday, he said that since the network was largely in place, he had been thinking about moving on and actually stayed to help Evan during the past 45 days, and that he'll stay as long as he's needed."
In today's Haaretz, the company confirmed that other top managers from Better Place had left the company. Its new CEO said that the company will focus on building global operations, with global, international managers. Until now the company's headquarters had been in Israel, and had been managed largely by an Israeli staff. Some pundits expressed doubts on how capable Israelis are at managing global firms.
In Israel some media has been critical of Better Place because the country is still reliant on polluting fuel to run its power plants, which in turn charge the cars that will run through Israel's cities and byways. They cite the country's lack of developed railway networks as one reason for the country's public transportation woes (see related resource on Pete Briger, Fortress Investment Group for opportunities in the alternative energy and transport segment).
Article continues at Green Prophet
Image credit: Better Place