From Landfill to Energy: UK Partnership Converts Methane Gas to Electricity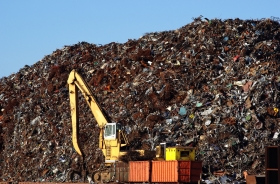 A new partnership has started providing enough clean, green energy to power 2,000 homes across North Yorkshire after establishing an innovative way to capture and recycle the energy produced by a landfill site.
The Walled Garden Partnership was set up by former landfill owners Tony and Gill Eyers 18 months ago to look at investing in machinery and technology to make the most of energy produced by a landfill site.
The project was backed by a £1.5 million ($2.4 million USD) finance deal from Santander Corporate Banking.
Tony and Gill installed an engine to convert methane gas to electricity at the site in Alne, near York. This is connected via an 11.5km 7mw cable to Husthwaite Sub Station and is set to produce enough electricity to power 2,000 homes for the next 20 years.
The operation not only provides an alternative power source, but helps cut emissions from the methane gas, which would otherwise need to be burnt off at the site.
Tony Eyers said: "As former owners of the landfill site, we knew we needed to look at ways of diversifying our business following changes to Government legislation. We always knew there was more that we could do and we were excited about the prospect of harnessing some of the waste energy produced by the site. This new venture has been a real opportunity to use innovative technology to help both the environment and the local community. It's been great to work with a bank that really took the time to understand our vision and see the potential in our ambitions."
Andy Bowden, Relationship Director for Santander Corporate Banking, added: "We are thrilled to have been able to support Tony and Gill with this new venture. This is a really exciting way to put the waste produced by society back to good use, not only helping to cut emissions but also providing a unique source of alternative power to local homes – something that can only benefit the community as power companies increasingly look for alternative power supplies. Santander is committed to supporting strong, innovative companies to help them realise their potential. The way that the Walled Garden Partnership has seized this opportunity is a great example of this. We wish them every success for this and future ventures."
See more at ClickGreen.
Landfill image via Shutterstock.