New Alert To Warn Oceanic Flights of Deadly Storms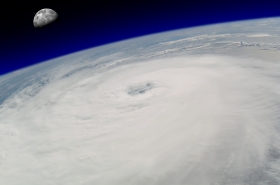 Among the many technological wonders that we landlubbers take for granted is Doppler Radar. We can order it up on our phones to see when rain, snow or hail is on the way, and pilots use it to avoid powerful storms cells that could down airplanes. But when commercial pilots venture over the open ocean, they are soon beyond the range of Doppler Radar systems and at the mercy of storms cells, with little to help them but onboard radar and their eyeballs to tell them what they might be flying into.
But it doesn't have to be that way. Scientists at the National Center of Atmospheric Research (NCAR) have now built a prototype of an oceanic storm alert system that fills in the Doppler gap using satellite data and fuzzy logic. The system combines satellite data and computer weather models to produce maps of storms over much of the world's oceans. The system is based on products that NCAR have developed to alert pilots and air traffic controllers about storms and related hazards, such as turbulence and lightning, over the continental United States.
"It has the same goal as Doppler radar," said NCAR's Kathy Kessinger, who helped develop the new system. "By providing them with a picture of where significant storms will be during an eight-hour period, the system can contribute to both the safety and comfort of passengers on flights over the ocean."
Unlike Doppler radar, satellite images do not penetrate the clouds, but they do reveal the intensity of storms. That's a lot, however.
"Pilots see the insides of clouds as they can scan them up and down with their radar," said Kessinger. "So they can see the internal intensity of the storm."
Article continues at Discovery News
Hurricane image via Shutterstock