US Fish & Wildlife Service Considering Reintroducing Wood Bison to Alaska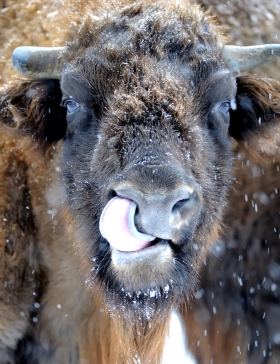 North America's largest land animal will roam the Alaskan wilderness once again if a plan unveiled last week is approved.
Wood bison, a subspecies of the more familiar plains bison, once lived throughout Alaska and much of western Canada but haven't been seen in the state's wilderness for more than a century due to hunting and other factors. That may be about to change: The U.S. Fish and Wildlife Service announced a plan Jan. 17 to reintroduce the beasts, according to the Alaska Dispatch, a news website.
Several groups have been trying to reintroduce wood bison for more than a decade. Some Alaskans have rejected the idea of introducing an animal listed under the Endangered Species Act for fear that this might interfere with gas and oil development, the Dispatch reported. (Habitats of endangered animals often cannot be used for certain commercial activities.)
Under the new plan, the Alaskan bison would be designated as a "nonessential experimental population" that isn't necessary to the survival of the species, which has rebounded enough in Canada to be considered threatened, as opposed to endangered as was the case previously.
Bison image via Shutterstock.
Read more at MSNBC.