Microbubbles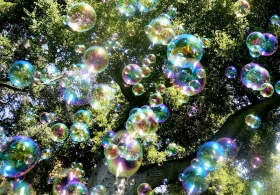 Microbubbles are bubbles generally smaller than one millimeter in diameter, but larger than one micrometer. They are often used in medical diagnostics as a contrast agent for ultrasound imaging. The microbubbles oscillate and vibrate when a sonic energy field is applied and may reflect ultrasound waves. This distinguishes the microbubbles from surrounding tissues. Microbubbles may also decrease the time and acoustic power of ultrasound required to heat and destroy an embedded target, finds research in BioMed Central's open access journal Journal of Therapeutic Ultrasound. If these results can be replicated in the clinic, microbubbles could improve the efficiency of high intensity ultrasound treatment of solid tumors.
Ultrasound is an oscillating sound pressure wave with a frequency greater than the upper limit of the human hearing range.
There are three normally accepted medical benefits to ultrasound. The first is the speeding up of the healing process from the increase in blood flow in the treated area. The second is the decrease in pain from the reduction of swelling and edema. The third is the gentle massage of muscles tendons and/or ligaments in the treated area because no strain is added and any scar tissue is softened.
The two types of effects are: thermal and non thermal effects. Thermal effects are due to the absorption of the sound waves. Non thermal effects are from cavitation, microstreaming and acoustic streaming.
Relatively high power ultrasound can break up stony deposits or tissue, accelerate the effect of drugs in a targeted area, and can be used to sort cells or small particles for research.
High intensity ultrasound is already used to treat solid tumors. Ultrasound can be focused through soft tissue and, because it does not require probes or surgery, is non-invasive. However if the tumor is behind the ribcage or skull, the bone absorbs some of the ultrasound. Consequently the length of treatment needs to be increased, plus there is a potential for heat damage to the bone.
In order to improve ultrasound therapy, especially in these difficult to treat cases, a team from Boston University has developed phase shift nanoemulsions (PSNE), which produce tiny microbubbles when blasted with high intensity ultrasound. Microbubbles smaller than 200nm passively accumulate in tumors and this study shows that microbubbles of this size can amplify the effects of ultrasound in hydrogels designed to mimic solid tumors inside the body.
The acoustic intensity and exposure time required for thermal destruction of tumor tissue were both reduced by more than half, compared to ultrasound without microbubbles. The lower power levels and time needed to destroy a target in the presence of microbubbles could potentially improve cancer therapy, especially in hard to reach areas.
The first stage in any new treatment is to show safety and efficacy. Prof Tyrone Porter, who led this study explained, "We used PSNE of phospholipid coated perfluorcarbon which have no known toxicity and have already be shown to be safe clinically. Our technique pushes forward the possible applications of ultrasound therapy in treating solid tumors."
"Focused ultrasound technology has enormous potential to improve the quality of lives for millions around the world," noted Neal F. Kassell, M.D., Chairman and Founder of the Focused Ultrasound Foundation. "The research reported in the Journal of Therapeutic Ultrasound will be central to advancing the field and will help accelerate the progress of focused ultrasound towards clinical adoption."
For further information see Microbubbles.
Bubbles image via Wikipedia.