IUCN Red List reports decline in world's oldest and largest species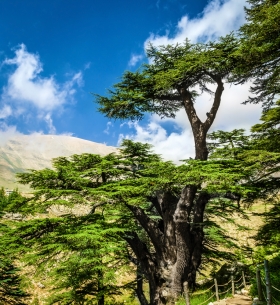 The latest update to the International Union for Conservation of Nature (IUCN) Red List of Threatened Species highlights a worrying decline in many economically and medicinally valuable species, from small freshwater shrimps and cone snails to gargantuan conifers, some of the world's oldest and largest organisms.
An impressive 4,807 species have been added to the IUCN Red List this year, bringing the total number of assessed species to 70,294, of which 20,934 are threatened with extinction. With the latest figures comes the upsetting news that three species have been declared Extinct: the Cape Verde giant skink (Chioninia coctei), the Santa Cruz pupfish (Cyprinodon arcuatus) and Macrobrachium leptodactylus, a freshwater shrimp.
These figures include the first global reassessment of conifers, a plant group which holds immense economic and medicinal value. For example, softwoods are used for paper and timber production, and the anti-cancer drug Taxol is derived from the bark of many species of yew. In addition, conifers take three times more carbon out of the atmosphere than temperate and tropical forests, making them the second most important biome on Earth for tackling climate change, after wetlands.
Worryingly, IUCN's latest update shows that 34% of the world's cedars, cypresses, firs and other cone-bearing plants are now threatened with extinction, an increase of 4% since the last complete assessment of this group 15 years ago.
Among the 33 conifer species whose conservation status has declined since the last assessment is the Guadalupe Island pine (Pinus radiata), which has moved from Least Concern – a category used for species at relatively low extinction risk – to Endangered. The most widely planted pine, valued for its pulp qualities and rapid growth, the Guadalupe Island pine faces several threats in its natural habitat, including illegal logging, feral goats and disease.
Despite the alarming picture painted by the latest figures, there are some glimmers of hope. As a result of successful conservation action, Lawson's cypress (Chamaecyparis lawsoniana) has changed status, moving from Vulnerable to Near Threatened. Once a heavily traded species also threatened by disease, this conifer has improved in status following the introduction of better management practices in California and Oregon, and it is thought that this species could be listed as Least Concern within ten years if conservation action continues.
"Conservation works and the results for the Lawson's cypress are reassuring," said Aljos Farjon, Chair of the IUCN Species Survival Commission's Conifer Specialist Group. "However, this is clearly not enough. More research into the status and distribution of many species is urgently needed. We suspect that there are many new species waiting to be described but it is likely that they will never be found due to the rate of deforestation and habitat conversion for oil plantations."
Continue reading at ARKive.org.
See the IUCN Press Release here.
Conifer image via Shutterstock.