Deforestation ban working in Costa Rica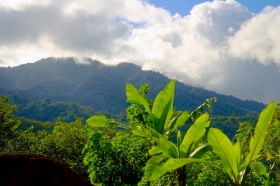 Costa Rica's ban on clearing of "mature" forests appears to be effective in encouraging agricultural expansion on non-forest lands, finds a study published today in the journal Environmental Research Letters.
The research, which was led by Matthew Fagan of Columbia University, is based on analysis of satellite data calibrated with visits to field sites in the lowlands of northern Costa Rica.
The study found that since Costa Rica implemented its ban on conversion of mature forests in 1996, the annual rate of old-growth forest loss dropped 40 percent despite an agricultural boom in the region. The results suggest that Costa Rica is intensifying agricultural production while simultaneously sparing forests.
"We observed that following the ban, mature forest loss decreased from 2.2 percent to 1.2 percent per year, and the proportion of pineapple and other export-oriented cropland derived from mature forest declined from 16.4% to 1.9%," the researchers write. "The post-ban expansion of pineapples and other crops largely replaced pasture, exotic and native tree plantations, and secondary forests."
Fagan and colleagues observed that the ban seemed to be particularly effective at discouraging large-scale or industrial agriculture in mature forest areas. It was less successful in stopping conversion for cattle pasture.
"We conclude that forest protection efforts in northern Costa Rica have likely slowed mature forest loss and succeeded in re-directing expansion of cropland to areas outside mature forest," they write. "Our results suggest that deforestation bans may protect mature forests better than older forest regrowth and may restrict clearing for large-scale crops more effectively than clearing for pasture."
While those findings may seem counter-intuitive since large-scale crops are considerably more profitable than cattle ranching, they are consistent with trends emerging elsewhere. One possible explanation is industrial agricultural operations — chiefly pineapples and bananas in northern Costa Rica — require substantial capital investment, making the their owners less willing to risk easily-detectable illegality (satellite imagery is a useful law enforcement tool for large-scale land use). Furthermore, because their crops are destined for export markets, where environmental concerns and issues like traceability loom large, pineapple and banana growers avoid chopping down rainforests for farmland. In contrast, many cattle ranchers are relatively small operators, whose product is consumed locally, providing less of an incentive to respect the deforestation ban. Similar developments have been observed with soy and cattle production in parts of the Brazilian Amazon.
Continue reading at ENN affiliate MONGABAY.COM.
Costa Rica forest image via Shutterstock.