Don't Dismiss the Hyperloop Opportunity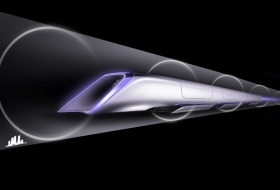 On Monday, Elon Musk, the indomitable Silicon Valley entrepreneur, unveiled his plans for a Hyperloop transportation system. The idea is to build an elevated tube from LA to SF that will transport pods full of people and cars and cargo between the two cities at 800 mph. Simpsons geeks everywhere, from Ogdenville to North Haverbrook, erupted in a derisive chorus of "Monorail." The solar-powered trip will take 30 minutes and cost $20 and that's no joke. It will be cheaper, faster, safer and more environmentally friendly than any existing mode of transportation. What's not to like"

To no one's surprise, Musk's plan garnered criticism, cynicism, and outright hatred from those who shroud themselves in pragmatism and an immutable love for incremental change. USA Today says "it won't work". TIME went way out on a limb and came up with "4 reasons why it could tank".
Even usually friendly voices like The Atlantic's Alexis Madrigal wrote in his column that he "worr[ies] that more fully baked transportation projects might be put on hold" and that the Hyperloop "could serve as a poison dart for California's high-speed rail (CA HSR), and then nothing comes of it." It's nice that Alexis is worried, but nobody's asking him to do anything. I wonder if he worries about the proposed high speed railway? What if budgets run over, residents protest, and politics create roadblocks? What if we are all telling our grandchildren stories about a magical rail that could have been while we fill our cars with $30/gal. gasoline? When we first started sending people to space, did anyone worry that it would distract our engineers from building faster prop planes, more practical rockets? I'm sure they did.
Even if the status quo High Speed Rail (HSR) project is successful, Musk claims the $70 billion project will be one of the most expensive and slowest bullet trains in the world, and it would only shave about 90 minutes off the trip. Is that type of incremental savings worth the money and the political capital needed to pull it off? If we're going to go through all the trouble and expense, why not really push the boundaries of transportation? The Hyperloop's $6 billion budget estimate might be pie in the sky, but even if it costs 10-20 times more than estimates, it will be about as expensive as the CA HSR + overruns, but will be a quantum leap forward in public transportation --- the beginning of a new future for humanity. Wouldn't that be worth the risk?
Editor's note:  As an owner of a Tesla Model S, by far the best car I have ever owned (or ever driven) I wouldn't dismiss any transportation idea from Elon Musk!
Rendering of Hyperloop courtesy Spacex.
Read more at ENN Affiliate, TriplePundit.