Sea Levels dropped in 2010 -2011, why?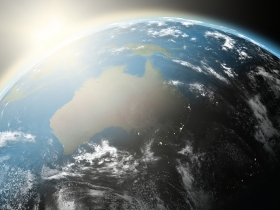 In 2011, scientists at NASA's Jet Propulsion Laboratory in Pasadena, Calif., and the University of Colorado at Boulder reported that between early 2010 and summer 2011, global sea level fell sharply, by about a quarter of an inch, or half a centimeter. Using data from the NASA/German Aerospace Center's Gravity Recovery and Climate Experiment (GRACE) spacecraft, they showed that the drop was caused by the very strong La Nina that began in late 2010. That La Nina changed rainfall patterns all over our planet, moving huge amounts of Earth's water from the ocean to the continents. The phenomenon was short-lived, however.
By mid-2012, global mean sea level had resumed its long-term mean annual rise of 0.13 inches (3.2 millimeters) per year (see http://www.jpl.nasa.gov/news/news.php?release=2012-362 ).
But analyses of the historical record showed that past La Nina events only rarely accompanied such a pronounced drop in sea level. So what made this particular La Nina unique?
Image of Australia from space via Shutterstock.
Read more at ScienceDaily.