Flying High on Research and Development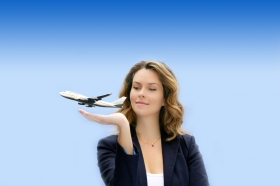 Sixteen universities have been identified to participate in Research and Development grants to support the United States Government (USG) commitment to a reduction in greenhouse gases in the commercial airline industry. In response to ongoing global pressures to reduce the impact of commercial aviation on climate change the USG through the FAA is aggressively seeking alternative ways to reduce emissions. 
The goal is to achieve carbon-neutral growth for U.S. Commercial aviation by 2020, equating to a reduction in carbon dioxide of 115 million metric tons (MT) over that time period. To meet this goal, the FAA has organized a Next Generation Air Transportation System (NextGen) initiative to achieve efficient aircraft operations and greenhouse gas emission reductions operationally and through airspace infrastructure improvements.
Presently the FAA believes that 81 MT in carbon dioxide emissions reductions can already be realized utilizing newly developed strategies already presented by NextGen and has gone on to create the NextGen Implementation Plan to provide a roadmap for the new vision.
The NextGen plan includes the organization of the Air Transportation Center of Excellence (COE) headed up by lead universities Washington State and Massachusetts Institute of Technology. Each will research various technologies and approaches for creation of cleaner fuel sources. Other participating schools include: Boston University, Oregon State, Purdue, University of Dayton, University of Illinois at Urbana-Champaign, University of Pennsylvania, University of Washington, Missouri University of Science and Technology, Georgia Institute of Technology, Pennsylvania State, Stanford, University of Hawaii, University of North Carolina at Chapel Hill and University of Tennessee.
Utilizing $4 million per year over the next 10 years of FAA funding, research will include noise, air quality, climate change, energy, airport operations predictability and reliability and safety.
Initiating the COE program, the University of Washington has begun with a grant focusing on sustainably grown woody energy crops for aviation fuels. MIT has conducted an alternative fuel analyses showing up to 80% reductions for some renewable alternative jet fuel pathways utilizing hydroprocessed esters and fatty acids (HEFA) jet fuels which provide an approximate 50% reduction.
It is anticipated that each R& D effort will produce real and lasting benefits to support the airline industry and our environment.
Read more at Triple Pundit and FAA.gov
Airplane Image via Shutterstock