Indonesia and EU sign deal to end illegal timber trade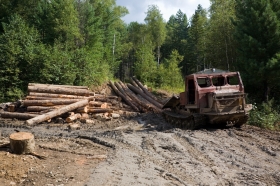 Indonesian and the European Union signed a deal on Monday that aims to curb illegal logging by ending all trade in illegal wood products between Asia's largest exporter of timber to Europe and each of the EU's 28 member states.
The deal marks Asia's first Voluntary Partnership Agreement on Forest Law Enforcement Governance and Trade (FLEGT-VPA) and is the product of six years of negotiations between EU and Indonesian officials as well as civil society groups and the private sector.
Under the VPA, all timber exported to the EU from Indonesia must be certified under the country's timber legality certification system (SVLK), which aims to track the chain of custody of timber products and ensure that timber is harvested in compliance with Indonesian law.
The EU banned the sale of illegally-harvested timber through a new law that entered into force in March. Once the VPA with Indonesia is fully implemented, all timber imported from the country will be deemed fully compliant with the new law, and companies trading in timber in the EU will no longer need to carry out due diligence to verify that Indonesian-certified wood is legal.
"The agreement demonstrates both parties have zero tolerance on illegal logging and its associated trade, and reflects our commitment to promoting the trade of legally certified timber," Indonesia's Forestry Minister Zulkifli Hasan said in an official statement on Monday. Zulkifli signed the agreement in Brussels together with European Commissioner for the Environment Janez Potočnik.
Ghana, Cameroon, the Republic of Congo, Liberia and the Central African Republic have all signed similar deals with the EU, however Indonesia is the biggest timber exporter to enter into a VPA so far. The country boasts the world's third-largest expanse of rainforest, after the Amazon and the Congo basin. Rapid deforestation and peatland destruction has also made it the world's third largest greenhouse gas emitter, and concern over climate change has focused global attention on efforts to preserve the country's forests.
Environmental groups have expressed cautious optimism over the deal, praising in particular the formal role Indonesian civil society will be able play in monitoring compliance. However, they stressed that much still needs to be done to reform Indonesia's timber industry and end illegal logging in the country.
"Today's signature of the FLEGT agreement is an important step to improve forest governance and law enforcement in Indonesia," Bustar Maitar, head of the Indonesia Forest Campaign at Greenpeace International, said in a statement on Monday.
Continue reading at ENN affiliate, MONGABAY.COM.
Timber trade image via Shutterstock.