Solar-powered car competition winner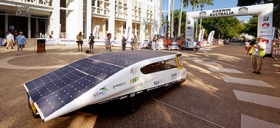 Stella, a solar-powered family car designed by students from the Eindhoven University of Technology (TU/e) in has won the World Solar Challenge 2013, ushering in a new era of efficient, practical cruisers that get all of their juice from the sun.

Solar Team Eindhoven from the Netherlands spent over a year developing their family car, which features photovoltaic solar panels on both the roof and rear, according to Dezeen. The latter are flipped up to optimize solar absorption and generate energy while the car is not in use.
Stella produces double the amount of energy that it needs to run, which allows the vehicle to contribute power to the national grid.
A biennial race across roughly 1,877 miles of Australian outback, the WCS has historically attracted solar-powered vehicles that aim for speed above all.
This year, however, in an effort to encourage a greater emphasis on practical vehicles that can be scaled up for commercial distribution, the competition organizers added the cruiser category.
Stella performed better than the other 39 teams with an average speed of 42mph, a top speed of 75mph, and an average of three people on board throughout the journey from Darwin to Adelaide.
Photo of Stella courtesy Solar Team Eindhoven.
Read more at Green Prophet.