H&M, Zara commit to cutting rainforest destruction out of clothing production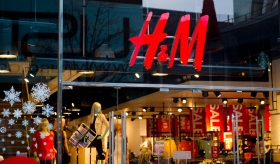 H&M and Zara/Inditex, two of the world's largest clothing companies, today pledged to eliminate old-growth forest destruction from their products. The commitment lends support to a new front on efforts to cut deforestation from supply chains of global brands. Until now, most of the focus of campaigners has been on pulp and paper, timber, and agricultural commodities like soy, palm oil, and cattle.
While the clothing industry's impact on forests is rarely acknowledged, its footprint is expanding. According to research by Canopy, an environmental group that campaigns to clean up commodity supply chains, boreal and tropical rainforest fiber "routinely" ends up in fabrics used in a wide range of clothing.
"Rayon, viscose, modal and other trademarked fabrics are increasingly made from the world's most endangered forests, from the tropical rainforests of Indonesia to the great northern Boreal Forests," said Canopy in a statement. "Globally rare forests are cut down, pulped and spun into suit jacket linings, dresses, skirts, t-shirts and tank tops. The dissolving pulp/viscose industry is poised for continued ambitious expansion and poses an increasing risk to threatened forest ecosystems around the world."
For example, Toba Pulp Lestari, a subsidiary of Asia Pacific Resources International Holdings (APRIL), has been sourcing timber from endangered Indonesian rainforests to feed a dissolving pulp mill in Sumatra. That fiber has been going into clothing sold around the world.
Canopy estimates that some 70 million trees are cut annually for fabric production and expects that number to double in 20 years. Accordingly, the group argues it is critical that leaders emerge to establish best practices that safeguard endangered forests from the industry's projected expansion.
"These clothing sector leaders are showing that being stylish doesn't have to cost the earth," said Nicole Rycroft, Canopy's Executive Director, in a statement. "Canopy is excited to see two of the largest brands, both major trendsetters, stepping up to ensure fabrics are no longer sourced from the world's endangered forests."
H&M Environmental Sustainability Manager Henrik Lampa added that his company understands its role in protecting forests.
"We are fully committed to exploring our supply chain and doing our utmost to avoid these fabrics within the next three years," Lampa said in a statement. "Working with Canopy, we are excited to take the additional step of encouraging leaders throughout the supply chain to support conservation in endangered forests and use alternative inputs, for example recycled clothing, so our actions create lasting change."
Read more from our affiliate, Mongabay.
H&M store image via JuliusKielaitis/Shutterstock.