Groundwater and Glaciers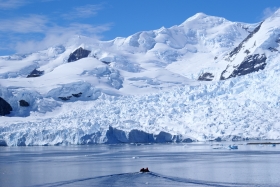 Subglacial lakes in Antarctica might have nutrient-rich groundwater flowing into them, say scientists investigating the origin of the water in ice streams.

Ice streams are huge, fast-flowing glaciers that meander across Antarctica. They are responsible for nearly all of the Antarctic's contribution to sea-level rise, yet scientists have little understanding of where the water flowing through them comes from. This means that the contents of the subglacial lakes which lie underneath these streams is also a mystery.
The new research, published in Geophysical Research Letters shows for the first time where the water going in and out of these ice streams – their hydrologic budget – comes from.
'It's important to understand and quantify the hydrologic budget of these ice streams, as this can control the lubrication and ultimately how fast these ice streams move,' explains Dr Poul Christoffersen of the Scott Polar Research Institute, lead researcher on the study.
'Some of these glaciers are slowing, some are speeding up and that's all in response to changes in the configuration of sources and sinks of water. If we're trying to understand what they'll be doing in future we need to understand how they have behaved in the past.'
Photo of Antarctica - Paradise Harbor via Shutterstock.
Read more at Planet Earth Online.