Utility emissions in US trending down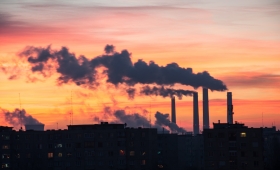 A new report on U.S. power plant emissions from the country's top 100 electric power producers shows a downward trend in nitrogen oxides (NOx), sulfur dioxides (SO2), mercury and carbon dioxide (CO2) since 2000, with CO2 emissions decreasing 13 percent between 2008 and 2012. The findings show that the industry is already shifting toward a combination of increased energy efficiency and lower carbon fuel sources, which should help it meet new Environmental Protection Agency (EPA) carbon standards expected to be announced on June 2.
"The electric power industry is firmly on the path toward a low carbon energy future, and history shows that it is not only capable of meeting new pollution limits, but that it can do so while keeping our lights on and our economy growing," said Mindy Lubber, president of Ceres, a nonprofit sustainability advocacy group which helped produce the report.  "EPA's proposed standards will stimulate further investment in low-carbon, low-risk resources like renewable power and energy efficiency."
The report shows wide disparities in CO2 emission rates among states. CO2 emissions per megawatt-hour of power produced were found to vary close to twenty-fold among the states, with Kentucky, Wyoming, West Virginia, Indiana, and North Dakota having the highest CO2 emissions rates, and Idaho, Vermont, Washington, Oregon, and Maine with the lowest CO2 emissions rates.
A small number of companies account for the majority of emissions. American Electric Power, Duke Energy, Southern Company, NRG, and Tennessee Valley Authority generate 25 percent of overall electric sector CO2 emissions, though some of these producers have been reducing emissions in recent years. Nearly a quarter of the electric power industry's SO2 and NOx emissions come from just three and four top producers, respectively.
The report also shows that major power companies in the Southeast, Midwest and Southwest regions have all seen declines in CO2 per megawatt-hour produced since 2000, with power producers in the Gulf South and Southeast (Entergy Corporation, Dominion and Southern Company) achieving some of the deepest reductions.
Power plant photo via Shutterstock.
Read more at NRDC.