Climate change and nutrition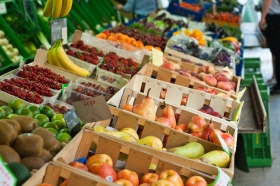 Researchers now say in a revealing Nature paper that the most significant health threat from climate change has started to happen.

Crops that provide a large share of the global population with most of their dietary zinc and iron will have significantly reduced concentrations of those nutrients at the elevated levels of atmospheric CO2 anticipated by around 2050, according to research by Israeli scientists published in Nature this month.
Given that an estimated two billion people suffer from zinc and iron deficiencies, resulting in a loss of 63 million life years annually from malnutrition, the reduction in these nutrients represents the most significant health threat ever shown to be associated with climate change, they report.
Humanity is conducting a global experiment by rapidly altering the environmental conditions on the only habitable planet we know. As this experiment unfolds, there will undoubtedly be many surprises. Finding out that rising CO2 threatens human nutrition is one such surprise.
Green Market image via Shutterstock.
Read more at: http://www.greenprophet.com/2014/05/climate-change-crops/#sthash.wmp59VHO.dpuf