How Sustainable is the Modern Diet?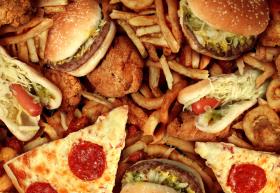 The world is gaining weight and becoming less healthy, and global dietary choices are harming the environment, according to a new research report.
Those are among the findings of a paper co-authored by David Tilman, a professor in the Bren School of Environmental Science & Management, and Michael Clark, a graduate student at the University of Minnesota, where Tilman is a professor.
In "Global Diets Link Environmental Sustainability and Human Health," published today in the journal Nature, the researchers find that rising incomes and urbanization around the world are driving a global dietary transition that is, in turn, diminishing the health of both people and the planet.
"These dietary shifts," they write, "are greatly increasing the incidence of Type 2 diabetes, coronary heart disease and other chronic non-communicable diseases that lower global life expectancies."
"Previous analyses have looked at the effects of diet in individual countries, but we are the first to examine the global impacts on both human health and the environment of diet as it is now and as it is becoming," he says. "We gathered information on dietary trends and environmental impacts for 90 percent of the global population. Our data let us see how diets, health and the environment have been changing and where they are going."
To reach their conclusions, the researchers gathered all published life-cycle assessments covering "cradle to farm gate" greenhouse gas emissions for production systems of food crops, livestock, fisheries and aquaculture — some 500 studies, of which about 220 were useful. They also gathered 50 years of data for 100 of the world's more populous nations to analyse global dietary trends and their drivers, using that information to forecast future diets should past trends continue.
The research generated a number of nuanced findings about the environmental impacts of various dietary choices, which included:
• While the difference in greenhouse gas emissions for animal-based versus plant-based foods is well known, emissions per gram of protein for beef and lamb are about 250 times those of legumes; pork, chicken, dairy, and fish have much lower emissions
• Twenty servings of vegetables have fewer greenhouse gas emissions than one serving of beef
• Fish caught by trawling, which involves dragging fishnets along the ocean floor, can have three times the emissions of fish caught by traditional methods
• And among cereal grains, rice has five times the emissions per gram of protein as wheat.
These and other facts demonstrate that there are many diets that are both good for the environment and healthy.
Continue reading at ENN affiliate, ClickGreen.
Food image via Shutterstock.