New School lunch programs not making the grade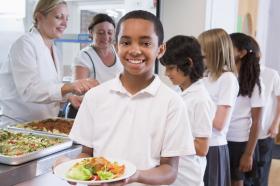 New federal regulations requiring school meals to contain more whole grains, less saturated fat and more fruits and vegetables, while perhaps improving some aspects of the food being served at schools across the United States, may also be perpetuating eating habits linked to obesity, diabetes and other diet-related diseases, an analysis by Johns Hopkins Bloomberg School of Public Health researchers has found.
The reasons: Based on analysis of school meals and the new requirements, the whole grains served are mostly processed, which means they are converted into sugar when digested, and many of the required foods, like fruit and milk, contain added sugar because many schools opt to serve canned fruit, fruit juice, and flavored milk. The new requirements do not limit the amount of added sugar in school meals. The researchers are recommending that the requirements be expanded to limit added sugars and processed foods and to ensure carbohydrate quality.
School meals can account for more than 50 percent of a student's daily caloric intake, and over 30 million children participate in school breakfast and lunch programs. Childhood and adolescent obesity rates have more than tripled since 1970.
"The low-fat craze in the last two decades has caused Americans to transition to a high carb, low fat diet," notes Sadie Barr, a student in a joint MPH-MBA program at Johns Hopkins University's Bloomberg School of Public Health and the Carey Business School. "This has been strongly linked to obesity, diabetes and other diet-related diseases, in large part because the majority of the carbs we have been eating are processed. School lunches, even with these new regulations, still largely reflect this diet."
Congress passed the Healthy, Hungry-Free Kids Act (HHFKA) in 2010. It requires school meals (breakfast and lunch) to consist of 51 percent whole grains, increases the amount of fruits and vegetables offered to students, restricts saturated fats to less than 10 percent of meal calories, imposes calorie restrictions and only allows skim or 1 percent milk to be served (only skim milk is allowed to be flavored). (HHFKA also restricts salt, but this was not addressed in this paper.) The goal was to provide nutritious food that promoted healthful eating.
Young students in cafeteria line image via Shutterstock.
Read more at EurekAlert.