O Christmas Tree, O Christmas Tree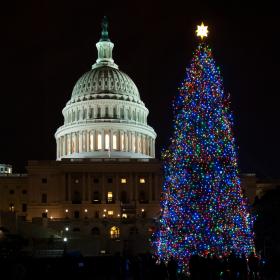 The tradition of the Capitol Christmas Tree, or The People's Tree, began in 1964 when Speaker of the U.S. House of Representatives John W. McCormack (D-MA) placed a live Christmas tree on the Capitol lawn. This tree lived three years before succumbing to wind and root damage. In 1970, the Capitol Architect asked the U.S. Forest Service to provide a Christmas tree. Since then, a different national forest has been chosen each year to provide The People's Tree. This national forest also works with state forests to provide companion trees that are smaller Christmas trees for offices in Washington, D.C.
This year, the 88-foot-tall white spruce tree was harvested from the Chippewa National Forest in northeastern Minnesota by Jim Scheff who won the Logger of the Year award from the Sustainable Forestry Initiative Inc. (SFI).
That begs the question how can a logger win an award from a sustainability group?
Logging tends to have a bad rep in the environmental sustainability sphere, but professional loggers like Scheff actually play a big role in sustainable forestry. They are using and influencing best management practices aimed at protecting water and other key parts of the forest environment. Various state programs help provide training and certification to meet sustainable logging practices including safe, productive, and environmentally responsible timber harvesting.
An SFI Implementation Committee from Minnesota will also place two ornaments on the Capitol Christmas tree this year to mark the contribution sustainable forestry makes to communities across America.
But what about the Christmas tree business in general? Just how sustainable are Christmas tree farms?
According to the University of Illinois, there are approximately 350 million Christmas trees growing on US farms. In 2012, 24.5 million farm-grown Christmas trees were purchased.
While one may think chopping down all these trees could be detrimental, there are in fact positive features associated with this live Christmas tradition.
1. Growing Christmas trees can provide habitat for wildlife.
2. Christmas trees can remove dust and pollen from the air.
3. 93% of real Christmas tree consumers recycle their tree in community recycling programs or in their own backyard.
4. Recycled trees have been used to make sand and soil erosion barriers.
5. An acre of Christmas trees provides the daily oxygen requirements of 18 people.
Additional Christmas Tree facts can be found at the University of Illinois Extension.
Read more about the Sustainable Forestry Initiative and the People's Tree, here.
Capitol Christmas Tree image via Shutterstock.