Christmas gift for Gray Wolves in three states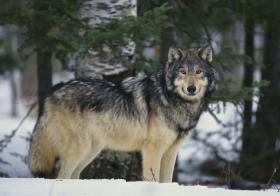 Christmas came early this year for gray wolves thanks to an awesome ruling handed down by a federal judge that immediately reinstated federal protection for them in the Great Lakes region.
The ruling affects wolves in Michigan, Minnesota and Wisconsin, and, unless overturned, will stop these three states from holding any more hunting and trapping seasons, which is expected to protect an estimated 3,700 wolves.
While it's a big victory for wolves and their advocates, it comes after hundreds have been killed in these states since they were stripped of protection two years ago. Michigan's hunt was canceled this year, but each state has held hunting seasons, while Minnesota and Wisconsin both allowed trapping and both also shamefully managed to go over their quotas this year.
The Humane Society of the United States, Born Free USA, Help Our Wolves Live and Friends of Animals and Their Environment challenged the delisting in court, arguing that it violated the Endangered Species Act (ESA) and that state regulations wouldn't be enough to protect them or ensure their survival.
On December 19, the court agreed. In her ruling, U.S. District Judge Beryl A. Howell said that the U.S. Fish and Wildlife Service's (FWS) 2012 decision to delist wolves and hand management over to the states in question was "arbitrary and capricious" and violated the ESA.
"The FWS's final rule challenged in this action is no more valid than the agency's three prior attempts to remove federal protections for a population of gray wolves, which are otherwise members of an endangered species," Howell wrote.
Gray Wolf image via Shutterstock.

Read more at ENN Affiliate Care2.