Declining Monarch Butterfly Population Warrants Federal Protection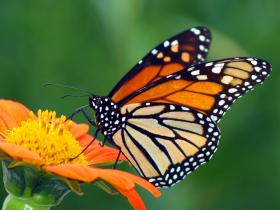 As conservationists continue to worry about the possibility of a world without monarchs, they've gotten some hope with an announcement from the U.S. Fish and Wildlife Service (FWS) that federal protection may be warranted for these iconic butterflies.
In August, the Center for Biological Diversity, Center for Food Safety, Xerces Society for Invertebrate Conservation and monarch scientist Dr. Lincoln Brower filed a legal petition with the FWS seeking protection for monarchs under the Endangered Species Act.
"We are extremely pleased that the federal agency in charge of protecting our nation's wildlife has recognized the dire situation of the monarch," said Sarina Jepsen, the Xerces Society's endangered species director. "Protection as a threatened species will enable extensive monarch habitat recovery on both public and private lands."
According to the petitioners, monarchs have declined by a shocking 90 percent in less than 20 years and "may have lost more than 165 million acres of habitat – an area about the size of Texas ― including nearly a third of their summer breeding grounds." Last winter, the numbers of monarchs reached a record low, raising serious concerns about their future survival.
According to the Xerces Society, in the 1990s, an estimated one billion monarchs made their way from as far north as Canada to the oyamel fir forests in Mexico where they spend their winters sheltered by the trees, while another million were believed to spend the winter at sites in California. Now, scientists believe there are only 33 million left.
While monarchs face the usual threats for insects ranging from predators and parasites to extreme weather, their biggest threat now is a result of our activity. Scientists believe illegal logging in Mexico and the widespread use of herbicides and pesticides, particularly those with glyphosphate that are killing milkweed, have played big roles in their decline. A variety of flowers can provide food for monarchs, but milkweed is the only food source for monarch caterpillars.
While federal protection will undoubtedly help them, some are still worried about how much time it will take to implement and stop their decline if the FWS does move to list them – the agency still has to conduct a one-year status review before making any further decisions.
Continue reading at ENN affiliate, Care2.
Monarch butterfly image via Shutterstock.