Ebola impacting Chimps and Gorillas even more than humans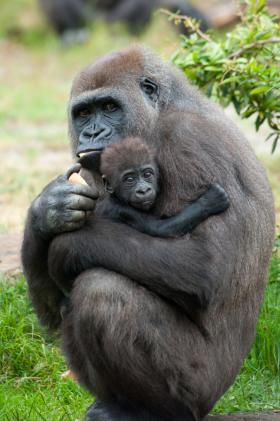 While the whole world is aware of the many human fatalities from the Ebola epidemic in Western Africa, you may not realize that the disease has claimed hundreds of thousands of other victims in the area. Unfortunately, Ebola is simultaneously working its way through gorilla and chimpanzee populations with no sign of stopping. In the past 25 years, Ebola has wiped out 33% of all apes, reports the Daily Beast.
Apes are already up against a number of obstacles that threaten their lives like poaching and habitat destruction. The last thing they need is to have a highly fatal disease reduce their numbers further. It's even more devastating when you reflect on the fact that many of these primate species that are ravaged by Ebola were already officially listed as endangered.
Though prompt and adequate medical treatment gives humans a better chance of surviving the disease, primates are not so lucky. Infected chimpanzees die 77% of the time, while gorillas have a glum 95% mortality rate.
Given the epidemic, many conservationists and animal activists have called for increased efforts to discover an Ebola vaccine for gorillas to help limit the spread of the disease. While the interest is there, prioritizing this research is pretty controversial with the public and some scientific communities. With thousands of people dying from Ebola, it's hard to convince people to focus on the ape side of the problem. As such, available resources are primarily devoted to the search for a human vaccine.
Gorilla mother and baby image via Shutterstock.
Read more at ENN Affiliate, Care2.