New study calculates magnitude of plastic waste going into the ocean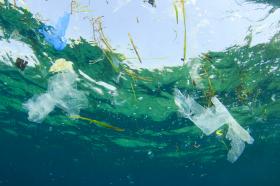 A plastic grocery bag cartwheels down the beach until a gust of wind spins it into the ocean. In 192 coastal countries, this scenario plays out over and over again as discarded beverage bottles, food wrappers, toys and other bits of plastic make their way from estuaries, seashores and uncontrolled landfills to settle in the world's seas.
How much mismanaged plastic waste is making its way from land to ocean has been a decades-long guessing game. Now, the University of Georgia's Jenna Jambeck and her colleagues in the National Center for Ecological Analysis and Synthesis working group have put a number on the global problem.
Their study, reported in the Feb. 13 edition of the journal Science, found between 4.8 and 12.7 million metric tons of plastic entered the ocean in 2010 from people living within 50 kilometers of the coastline. That year, a total of 275 million metric tons of plastic waste was generated in those 192 coastal countries.
Jambeck, an assistant professor of environmental engineering in the UGA College of Engineering and the study's lead author, explains the amount of plastic moving from land to ocean each year using 8 million metric tons as the midpoint: "Eight million metric tons is the equivalent to finding five grocery bags full of plastic on every foot of coastline in the 192 countries we examined."
To determine the amount of plastic going into the ocean, Jambeck "started it off beautifully with a very grand model of all sources of marine debris," said study co-author Roland Geyer, an associate professor with the University of California, Santa Barbara's Bren School of Environmental Science & Management, who teamed with Jambeck and others to develop the estimates.
They began by looking at all debris entering the ocean from land, sea and other pathways. Their goal was to develop models for each of these sources. After gathering rough estimates, "it fairly quickly emerged that the mismanaged waste and solid waste dispersed was the biggest contributor of all of them," he said. From there, they focused on plastic.
"For the first time, we're estimating the amount of plastic that enters the oceans in a given year," said study co-author Kara Lavender Law, a research professor at the Massachusetts-based Sea Education Association. "Nobody has had a good sense of the size of that problem until now."
The framework the researchers developed isn't limited to calculating plastic inputs into the ocean.
Continue reading at the University of Georgia.
Plastic in ocean image via Shutterstock.