Warm Winter in Pacific Northwest means less snowpack and water worries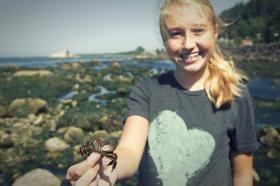 If it seemed like Oregon has had a lot of unseasonably warm days this winter, well, it's because we have. Now the focus is on a very low snowpack – and the implications that may have later this year.
The meteorological winter – which is comprised of December, January and February – recently wrapped up and depending on where you live in Oregon, it was one of the warmest – if not the warmest – winters on record.
"It has been a very, very warm winter – almost historically so," said Philip Mote, director of the Oregon Climate Change Research Center at Oregon State University. "On one hand, the warm temperatures have made for a rather pleasant winter. On the other hand, the snowpack situation has been atrocious, and that really raises concerns for water levels in many streams later this summer."
The National Oceanic and Atmospheric Administration's seasonal outlook calls for "significantly enhanced likelihood" for a warm spring – especially in western Oregon and western Washington – and a "somewhat reduced likelihood" for a wet spring.
"That's not a hopeful outlook for the kind of late recovery of snowpack that we have seen in some previous low-snow winters," Mote noted.
How warm has this winter been? Mote said that each winter month was warmer than average at almost every recording station in Oregon. More than a hundred high temperature records were broken in Oregon – just in December. Another 114 high temperature records were broken in February.
Overall, Mote said, this should go down as the second warmest winter for the Pacific Northwest behind 1933-34, according to data from NOAA's National Climatic Data Center. That was the Dust Bowl era - and 2014-15 wasn't far behind. NOAA reports that parts of eastern and southern Oregon were more than eight degrees warmer than average for the meteorological winter.
Girl with crab image via Shutterstock.
Read more at Oregon State Univeristy.