Its a fact: animals can predict earthquakes.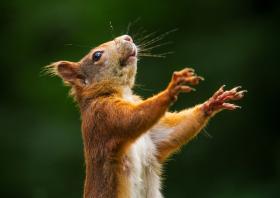 The Amazon rainforest teems with animal activity throughout the day and night. When animals suddenly withdraw and go silent, however, something unusual is going on. Many believe that this reaction can mean an earthquake is imminent.
Scientists now say they've got proof this belief is true. They've published their study's findings in the journal Physics and Chemistry of the Earth.
Researchers set up a series of motion-activated camera traps in Peru's Yanachanga National Park to observe animal activity at ground level. They filmed rodents and other ground dwellers as they went about their busy forest lives.
In 2011, just weeks before the 7.0 magnitude Contamana earthquake hit this area, those cameras revealed something amazing. Those animals suddenly dropped out of sight. They packed their bags and headed for the hills, so to speak.
Animal activity began dropping noticeably about 23 days before the quake struck. On a normal day, the cameras captured between five and 15 animals moving about. During those 23 days, they captured only five such daily sightings.
Even more astounding — for five of the seven days immediately preceding the earthquake, the cameras picked up absolutely no animal movements of any kind. In an area so rich with animal life, this development clearly meant something important.
"As far as we know, this is the first time that motion-triggered cameras have documented this phenomenon prior to an earthquake," Dr. Rachel Grant, lecturer in Animal and Environmental Biology at Anglia Ruskin University and the report's lead author, said in a news release.
"The park was 320km from the epicenter, and I thought, there was not much going to be happening," Grant told Sky News. "But when I saw the results I was totally shocked. It was amazing. The analysis showed that just before the earthquake animal activity dropped right down."
So what was going on? It seems that when the Earth's surface experiences stressors, electrically charged molecules cause elevated serotonin levels in the bloodstream. This in turn causes animals and humans to experience confusion, agitation, headaches, restlessness and hyperactivity. Animals will naturally depart an area in which they experience this kind of discomfort.
Squirrel image via Shutterstock.
Read more at ENN Affiliate, Care2.