New California water restrictions mandated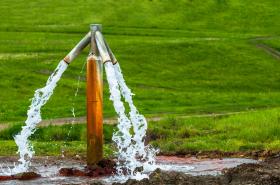 This year California has seen the lowest snowpack ever recorded, which was a disaster for the winter ski tourism industry and poses dangers of wildfires this summer and fall. But the dry winter has also exacerbated the state's ongoing drought crisis. To that end, Gov. Jerry Brown issued an executive order that he said is necessary in order to make California drought resistant.
The governor made the announcement while visiting a California Department of Water Resources snow survey in the Sierra Nevada Mountains at Phillips Station, located in El Dorado County near the Nevada border. "Today we are standing on dry grass where there should be five feet of snow. This historic drought demands unprecedented action," Gov. Brown said.
The executive order calls for increased water conservation, increased enforcement, a streamlined state government response and investment in new water technologies.
Many of the water conservation measures make logical sense. Gov. Brown ordered that 50 million square feet of grass lawns be replaced with drought-tolerant landscaping. Consumers could benefit from a temporary rebate program that would allow them to replace older, water-hogging appliances with more water-efficient models. School campuses, cemeteries and golf courses would have to make cuts in their water consumption. New homes and developments will also be banned from using potable water for irrigation landscaping unless water-efficient drip systems are installed.
Leaking outdoor water taps image via Shutterstock.
Read more at ENN Affiliate TriplePundit.