Nepal earthquake causes extensive damage and kills thousands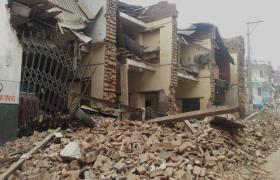 Powerful aftershocks rocked Nepal on Sunday, panicking survivors of a quake that killed more than 2,300 and triggering fresh avalanches at Everest base camp, as rescuers dug through rubble in the devastated capital Kathmandu.
A string of earthquakes have been occurring in Chile and Southern California.
Terrified residents, many forced to camp out in the capital after Saturday's quake reduced buildings to rubble, were jolted by a 6.7-magnitude aftershock that compounded the worst disaster to hit the impoverished Himalayan nation in more than 80 years.
At overstretched hospitals, where medics were also treating patients in hastily erected tents, staff were forced to flee from buildings for fear of further collapses.
"Electricity has been cut off, communication systems are congested and hospitals are crowded and are running out of room for storing dead bodies," Oxfam Australia chief executive Helen Szoke said.
Photo from Nepal courtesy World Vision.
Read more at Discovery News.