Germany is key market for the Tesla Home Battery system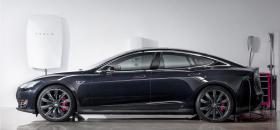 Electric car pioneer Tesla unveiled a "home battery" last week which its founder Elon Musk said would help change the "entire energy infrastructure of the world". Environmentally-conscious German customers are targeted as potential buyers of the product.
The Tesla Powerwall, unveiled on Thursday (30 April), can store power from solar panels, from the electricity grid at night when it is typically cheaper, and provide a secure backup in the case of a power outage.
In theory the device, which typically would fit on the wall of a garage or inside a house, could make solar-powered homes completely independent of the traditional energy grid.
"The goal is complete transformation of the entire energy infrastructure of the world, to completely sustainable zero carbon," Musk told reporters shortly before unveiling the Powerwall in a stylish warehouse space outside Los Angeles.
Examples of the sleek device - available in a range of colors - were lined up along one side of the hall. "It looks like a beautiful sculpture on the wall," said Musk.
All the power for the evening demonstration, attended by several hundred media as well as tech world participants, came from his new batteries, hooked up to solar panels on the roof, he said.
Initially the device, which will cost $3,500 (€3,137), will go on sale in the United States later this year. But the aim is to roll it out internationally some time next year.
Germany is seen as a key market for the product - which is about 6 inches thick, 4 feet tall and 3 feet across - because it has among the highest take-up of solar energy in the world, Musk said.
Home Battery and Tesla Model S image via Tesla.
Read more at EurActiv.