How studying volcanos can improve aviation safety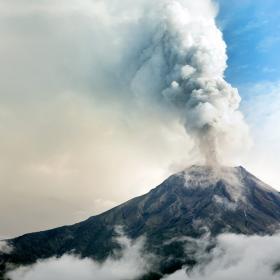 A study on ash blasted from volcanoes is a first step towards accurately assessing where it is safe to fly during eruptions, according to the authors.
The researchers found that the ash grains ejected into the atmosphere have diverse shapes and properties. They also learned that big grains can travel further than was previously estimated.
All this could improve existing models of ash concentrations, which governments and airlines use to make flight decisions during eruptions, they say. Ash can cause aircraft engines to fail.
"The most important measurement for aviation safety is the concentration of the ash cloud, because aeroplanes are allowed to fly through them if the concentration is low," says John Stevenson, a volcanologist at the University of Edinburgh in the
United Kingdom, who led the study. "To do this safely, you need to know the uncertainties in your maps, and our new results help understand the uncertainties."
More accurate monitoring of volcano eruptions is crucial for the volcanic ash advisory centres (VAACs), a global network of nine centres established by the UN's International Civil Aviation Organization. Their advice is intended to allow airlines and air-traffic managers to plan safe and efficient flight diversions during eruptions.
For the study, published last month in Atmospheric Measurement Techniques, scientists analysed satellite-based measurements of ash clouds from the eruptions of the Icelandic volcanoes Eyjafjallajökull (2010) and Grímsvötn (2011).
They then compared them with ash deposits recovered on the ground in the United Kingdom. In just one week, the Eyjafjallajökull eruption caused over 100,000 flight cancelations, affecting seven million passengers.
With more than 500 active volcanoes in the world, and 12 eruptions on average a year, understanding volcanic ash hazards could contribute to the economic wellbeing of developing countries, where disruptions of travel and trade can cause widespread harm.
In Latin America alone, 11 countries have volcanoes with a high frequency of eruptions. The Puyehue-Cordón Caulle eruption in Chile in 2011 ejected around 100 million tonnes of ash, sand and pumice, causing flight cancellations across Argentina, Brazil and Chile, as well as Australia, New Zealand and South Africa.
"If the ash concentration is uncertain, then you have to stop aircraft flying in a wide zone around the ash cloud, just in case the actual concentration is much higher than the prediction," Stevenson says. "More reliable estimates mean that fewer airports have to be closed."
Continue reading at ENN affiliate, SciDevNet.
Volcano image via Shutterstock.