Stricter emissions standards for trucks proposed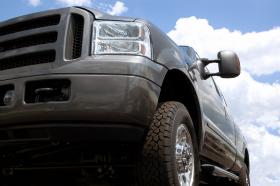 The Obama administration announced new rules today that would require tighter emissions guidelines for medium and heavy-duty trucks in an effort to reduce greenhouse gases.
The rules, proposed by the Environmental Protection Agency and the Department of Transportation's National Highway Traffic Safety Administration (NHTSA), were expected to cut carbon dioxide emissions from trucks and vans by one-quarter by the year 2027.
The proposed standards affect semi-trucks, large pickup trucks and vans, buses and work trucks and cover model years 2021-2027, officials said.
By the end of the compliance period, the changes would "lower CO2 emissions by approximately 1 billion metric tons, cut fuel costs by about $170 billion, and reduce oil consumption by up to 1.8 billion barrels over the lifetime of the vehicles sold under the program. These reductions are nearly equal to the greenhouse gas (GHG) emissions associated with energy use by all U.S. residences in one year. The total oil savings under the program would be greater than a year's worth of U.S. imports from the Organization of the Petroleum Exporting Countries (OPEC)," according to an EPA-DOT statement.
Pickup truck image via Shutterstock.
Read more at NPR.