UK Bog ecosystem threatened by climate change impacts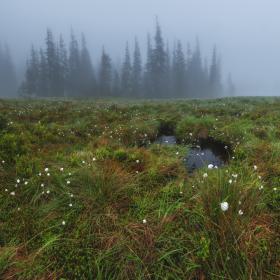 An entire ecosystem is at risk from the effects of climate change on the UK's blanket bogs, scientists at the University of Leeds have warned.
These wetland habitats provide important feeding and nesting grounds for bird species including the dunlin, red grouse and golden plover. Blanket bogs are also the source of most of our drinking water and vital carbon stores.
The scientists warn that the effects of climate change, such as altered rainfall patterns and summer droughts, could drastically affect bog hydrology, which in turn could affect insect and bird populations.
Study co-author Professor Joseph Holden is Director of water@leeds, one of the largest interdisciplinary centres for water research in the world. He said: "Our study shows the interconnectedness of our precious upland peatlands in the UK.
"If the hydrology is altered by management or climate change, then the whole ecosystem starts to become fragmented."
The study, part-funded by the RSBP, saw the universities of Leeds, York and Aberystwyth collaborate with the British Trust for Ornithology to determine the importance of the cranefly, more commonly known as daddy longlegs, in the complex relationship between climate, bog habitats, birds and insects.
The predicted increase in summer droughts will cause significant decline in craneflies and subsequently the bird species that depend on the protein-rich source as food for chicks.
Dr Andreas Heinemeyer, from the Stockholm Environment Institute based at the University of York, which led the study, said: "There is a very strong relationship between the moisture of the peat and the survival of the larvae of the cranefly during summer. July and August are peak times: if it is too dry, the larvae just desiccate and die and are then not available for the bird chicks the following year."
Using a peatland model developed by the University of York, together with the latest climate change predictions, scientists have anticipated that by the middle of the century the red grouse could see a 15% decline in numbers, with the golden plover down 30% and dunlin numbers cut by 50% – all driven by the decreased number of craneflies.
The findings suggest that restorative projects are needed to secure the future of these ecosystems.
Dr Matthew Carroll, RSPB Conservation Scientist, said: "Our work shows that climate change could harm some of our most iconic upland bird species. The birds rely on craneflies for food during the breeding season, and the craneflies rely on the cool, wet conditions in blanket bogs".
Foggy bog image via Shutterstock.
Read more at University of Leeds.