Researchers find better way to 'herd' electrons in solar fuel devices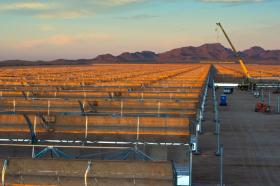 Researchers at the University of British Columbia and the University of North Carolina at Chapel Hill have discovered a new way to optimize electron transfer in semi-conductors used in solar fuel solutions.
The finding, published today in Nature Chemistry, could have a big impact on devices that convert sunlight into electricity and fuel.
Researchers have already shown that the efficiency of electron transfer at semi-conductor interfaces depends on the distance the electron has to travel. The new finding shows that the efficiency of the transfer also depends on the type of chemical bonds--or the bridge--that the electron travels through along the way.
Image: Solar power system in Gila Bend, Arizona
Continue reading at EurekAlert!