Climate Change Is Happening Faster Than African Crops Can Handle It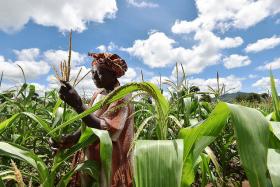 Crop yields in Africa will nosedive ten years from now unless we can develop varieties that can better deal with climate change. Unfortunately, we're not breeding those hardier varieties fast enough.
That's the sobering conclusion of a study published in the journal Nature Climate Change by researchers from the University of Leeds. As temperatures rise, crop yields fall. This is particularly true for staple crops like corn, bananas and beans raised in hot tropical areas.
A disturbing 30 percent of farms cultivating corn and bananas in Africa won't be able to continue doing so by the end of this century, according to the study. Even worse, 60 percent of farmland currently growing beans will suffer the same fate.
"In Africa, gradually rising temperatures and more droughts and heatwaves caused by climate change will have an impact on maize," said lead study co-author Prof. Andy Challinor. "We looked in particular at the effect of temperature on crop durations, which is the length of time between planting and harvesting."
Read more: http://www.care2.com/causes/climate-change-is-happening-faster-than-african-crops-can-handle-it.html#ixzz4Ct74xP42
Image: Maize crop in Malawi
Credit: Neil Palmer via phys.org