Obama Creates the World's Largest Marine Reserve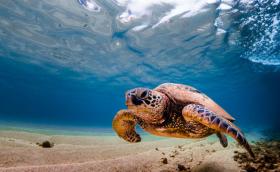 The Papahānaumokuākea Marine National Monument, first named a national monument by President George W. Bush in 2006, is a massively important marine nature reserve.
Designated a World Heritage site, the region surrounding the Northwestern Hawaiian Islands teems with more than 7,000 marine and land species — some of which are unique to the area, including endangered whales and sea turtles. As a result, the region has been deemed irreplaceable by scientists.
Environmental advocates have repeatedly called for an expansion of the monument's protections to ensure that the area is safeguarded from commercial operations long into the future.
Clearly, President Obama agrees.
Last week Obama announced that he would expand the protected site to cover some 528,578 square miles, making Papahānaumokuākea the largest such site on Earth.
A press release from the White House notes:
The expansion provides critical protections for more than 7,000 marine species, including whales and sea turtles listed under the Endangered Species Act and the longest-living marine species in the world — black coral, which have been found to live longer than 4,500 years.
The White House emphasizes that this act continues the administration's commitment to protecting the environment from future climate change issues.
"Additionally, as ocean acidification, warming, and other impacts of climate change threaten marine ecosystems, expanding the monument will improve ocean resilience," the statement reads. The document argues that the expansion will "help the region's distinct physical and biological resources adapt, and create a natural laboratory that will allow scientists to monitor and explore the impacts of climate change on these fragile ecosystems."
The region is also an area of great historic and social significance for the local Hawaiian communities. Papahānaumokuākea has received the United Nations Educational, Scientific and Cultural Organization's attention for its "deep cosmological and traditional significance for living Native Hawaiian culture," USA Today reports.
While Congress remains in a state of almost perpetual gridlock on any legislation of substance, especially contentious issues like climate change and environmental protection, Obama has been using his lawful executive authority to create meaningful change.
The Antiquities Act gives U.S. presidents the ability to designate national monuments from public lands in order to protect natural, cultural and scientific areas of significance, and through this legislation, Obama has been able to greatly extend the country's environmental protections. For example, in 2014 he increased the Pacific Remote Islands Marine National Monument to the south and west of Hawaii, too.
Continue reading at ENN affiliate, Care2.
Photo credit: Thinkstock.