Green city in UAE desert has much to teach the world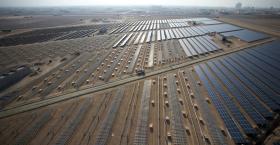 A new desert city in the United Arab Emirates without light switches or water taps has much to teach people around the world about saving energy and precious resources.
With its low-rise and energy efficient buildings, smart metering, excellent public transport - a personal transportation pod is pictured below - and extensive use of renewable energy, the 2,000 citizens of Masdar City, in Abu Dhabi, are living in a place which is a 'green' example to city planners around the globe.
There are no light switches or water taps in Masdar City. Movement sensors control lighting and water in order to cut electricity and water consumption by 51% and 55% respectively.
Masdar is the world's first city designed to be 'zero carbon' and 'zero waste', but its environmental experts can learn much from the historic, post-industrial British city of Birmingham, as it too aims to become a low-carbon metropolis.
Continue reading at University of Birmingham
Image via SMA AMERICA